This page will contain any updates to the EN,Twn,CN and JP servers!
This page will also be used for all pre release information in reguards to DWOZ!
Dynasty Warriors Online Z News!
All the news on the new update!
Taiwan Server news to be annouced
Japan server will undergo maitenance today and will be updated with new stuff.
Chinese Server news to be annouced
English Server Update (Hiatus Moment)
Japanese Server May 14th Update
New Weapon 
-Sword and Hook but this weapon can only be obtained through renewal quest of Escape from Chi Bi and Battle of Changban.It will never drop through weapon box and Pink Dim Sum.
Moveset Revision
-Lance
-Lightning Spear
New Quest(Limited time event)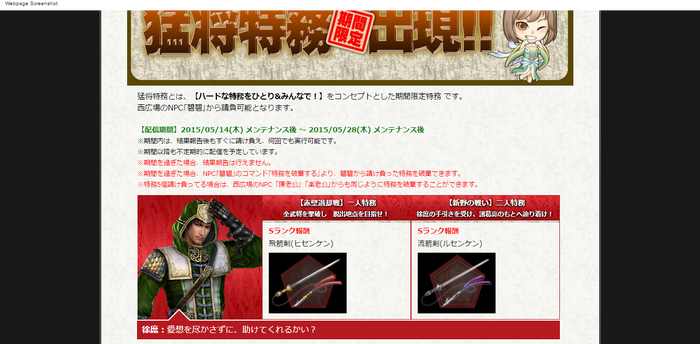 -Escape from Cihi B (1 player quest)
-Battle of Chang ban (2 player quest)
The 2 quest above is a renewal version.
New Gear
New Male Gear - 
New Female Gear -
New Sews
-None
Event
More info coming later.
New Item Mall Gear
-More info coming later
System Revision
-Increase Musou consumption of weapon change
-Increase Attack and Damage done from weapon change
-Cooking Skill can now reached to 50
-Adjustment to number of old coin that can be obtained
DMC
More info coming later.
Promotion
More info coming later.
Taiwan Server 22th August Update
New Weapon:
Moveset Revision
-
New Gear:
Male:
Sun Quan Dwoz  Set
? Sets
Female:
Sun Quan Dwoz  Set
? Sets
New Sew: -
New Recipes
New Mechanic-
Novice Guild introduced
Chinese Server Update 18th August 2014
New Weapon:
Moveset Revision
-
New Gear:
Male:
Sun Quan Dwoz  Set
? Sets
Female:
Sun Quan Dwoz  Set
? Sets
New Sew: -
New Recipes